About Me
____________________________________________________________
Hello, my name is Marjorie!!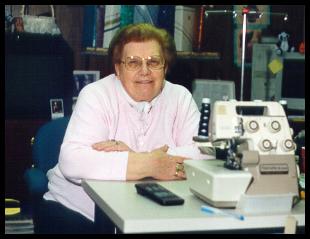 I won't tell you how old I am :-), but I will let you know a few things about me. My family (My Husband and I with two children) moved to the United States in 1956 and settled in Holland Michigan and we had one more child, that was born here in the States (guess who did this web site?) in 1965. My husband and I are both retired, with an emphasis on re"tired"-LOL.
Well, I've been sewing since I was a small child and love it as much now as I did then (but now I do it mostly for the "love of it" not in order to make ends meet).
Anyway, here in Holland Michigan there is an annual festival called Tulip Time it is a celebration of Hollands Dutch heritage. Over the years I have noticed that the costumes used by many of the people in the area aren't as authentic as they could be (not to mention some of the workmanship is not really what it should be). So I decided a few years ago to start making costumes for anyone who truly wanted quality and something they could actually hand down through the family (I still have my youngest sons Costume from when he was just a small child). The costumes I make are as authentic as they come (I've researched what I didn't readily know) and you won't find any nicer than these either. I make them for Adults, Children, and also for the American Girl line of Dolls, I'm also asked from time to time to help with outfitting handicapped or disabled people.
If Dutch costumes don't fulfill your wants, I also do Raggedy Ann and Andy dolls. They make a fine addition to anyone's collection of Raggedy type dolls.
I use "only the best quality" material with my projects.
Please browse my site and feel free to contact me regarding my Costumes, Doll Clothing, Raggedy dolls, or to make a comment about the site.
Thank You for visiting my site.
____________________________________________________________

CountZ.com